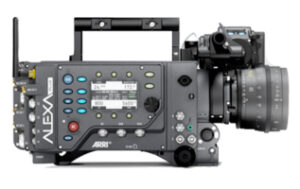 ALEXA to kompaktowa, lekka i przystępna cenowo kamera cyfrowa, która na nowo zdefiniuje granice rejestrowania filmów dzięki ultraszybkiemu przepływowi pracy i jakości obrazu zbliżonej do filmu 35 mm. Od dużych filmów i wysokiej klasy dramatów po reklamy, teledyski i telewizję głównego nurtu, ALEXA pasuje do szerokiej gamy zastosowań i budżetów. ALEXA opiera się na zaprojektowanym przez ARRI, w pełni zamkniętym czujniku CMOS, który oferuje czułość bazową równą 800 ASA i niski poziom szumów . Niemniej jednak główną zaletą ALEXY będzie łatwy przepływ pracy.
Parametry ARRI ALEXA CLASSIC HS
Sensor Type
35 format ALEV III CMOS with Dual Gain Architecture (DGA)
Frame Rate 0.75 – 60fps, adjustable with 1/1000 fps precision.
Aperture
Recording ARRIRAW
Dimensions: 23.760×13.365mm / 0.9354×0.5262″
Aspect Ratio: 16:9
Photosites: 2880 x 1620
Data: 12 bit log
Recording HD
Dimensions: 23.76 x13.37 mm / 0.9354×0.5262″
Aspect Ratio: 16:9
Photosites: 2880 x 1620
Data: 10 bit lin / log, 12 bit lin / log
Monitoring / EVF
Dimensions: 26.136×14.702mm / 1.0290×0.5788″
Aspect Ratio: 16:9
Photosites: 3168 x 1782
Data: 10 bit lin / log
Recording
Internal to SxS PRO memory cards:
1080p Apple ProRes 422 (HQ) or Apple ProRes 4444 QuickTime® with embedded 2-ch audio and ancillary metadata xml-file.
External via REC OUT 1.5G or 3G:
ARRIRAW or 1080PsF 4:4:4 rgB/4:2:2 YCbCr HD video. Recording frame rates other than HD standard 23.976, 24, 25, 29.97, 30, 50, 59.94, 60 fps requires a recorder with Variflag support. Recording ARRIRAW requires an ARRIRAW T-Link certified recorder.